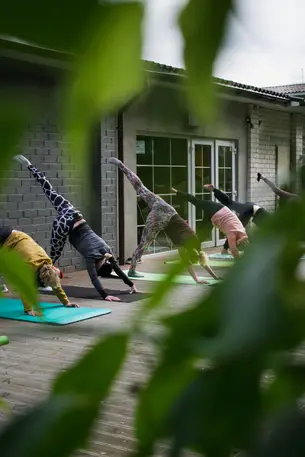 Vinyasa yoga moves through postures together in a "flow" yoga practice. Philosophically, Vinyasa recognizes the temporary nature of things as we enter into a posture, stay and then exit the posture smoothly. Vinyasa dates back to the Vedic age, or the earliest period of yoga, as a series of steps, to make something sacred. It is a breath initiated practice, connecting every action of our life with the intention of moving towards what is sacred, or most important to us. Vinyasa helps us avoid injury with good technique, patience and strength building. People feel alive, connected and free through Vinyasa flow.
Mental Health Benefits: In Vinyasa we move from child's pose to death pose (savasana) and experience an entire lifetime. Vinyasa serves as the metaphor for our own life, as we move from one situation to the next. How we enter each posture, or stay, or leave is sacred for it reflects how we do the same everywhere else in life. If everything is connected, then the thing we spend so much time looking for must also be present here, in this moment.
This wisdom is revealed through watching ourselves move through postures and the world in general. "How" we move takes on a greater importance than "what" we are doing. To miss this is to be unaware and unconscious of our movements. This leads to us to a state of "going through the motions" but not learning anything. We just keep going round and round.
We journey and strive, as if we are going somewhere, but ultimately the practice brings us back to where we started. Hopefully, though, our attention and vulnerability allows our experience to inform us.
On a bigger scale we are moving energy, described as prana or life force. The process of moving invites us to feel alive.
Flowing from pose-to-pose also underscores the temporary nature of everything. This is the only time ever you will have this moment. It is the only time you will get to live this life–it's not a dress rehearsal. Please reach out with any yoga interests and your specific needs.